[WATCH] Casual Elections: Godfrey Farrugia elected to parliament
Karol Aquilina, Ivan Bartolo, Maria Deguara and David Stellini have also been elected for the Nationalist Party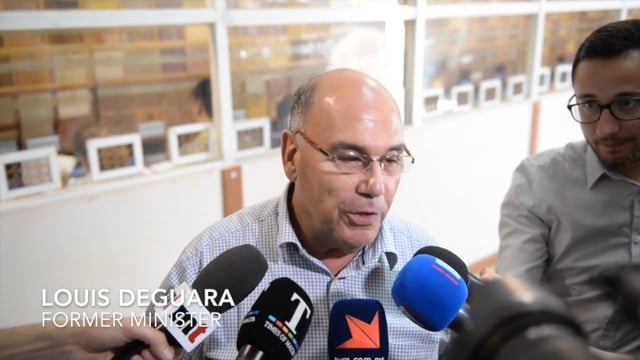 Casual Elections: Godfrey Farrugia elected to parliament
Casual elections to fill the five seats vacated by Nationalist Party candidates elected on two districts came to end on Tuesday afternoon with PD candidate Godfrey Farrugia elected to parliament along with Ivan Bartolo, David Stellini, Karol Aquilina and Maria Deguara.
On the 7th district, Farrugia, who was elected with 1,975 votes, said that throughout his political career he had always worked in the name of Malta, correctness, life and human dignity, and would continue to do so during the forthcoming legislature.
He stressed that the election was a challenge, especially in light of the fact that seven months ago he was the "whip of another party in another legislature".
Farrugia insisted that he would be working towards a more "human politics" that is worthy of the "collective interest".
Stellini was elected on the 13th district with 2,092 votes, 54 more than Kevin Cutajar.
"I wanted to represent Gozitan constituents," said an emotional Stellini, who added that he had been asked to contest just one week before the election was announced.
"To be honest I did it out of a sense of loyalty towards the leader Simon Busuttil but half way through the campaign I realised I could win…I am very happy to be moving back to Gozo."
Siggiewi mayor Karol Aquilina was elected on the 10th district at the expense of former minister George Pullicino, who seemed likely to be elected, having been in the lead all day. Aquilina however gained 431 votes from Alan Abela Wadge who was eliminated in the sixth round, as well as a majority of the Graziella Attard Previ's votes, which meant that he had collected most votes in the district at 2,014.
Aquilina said that while his election did come as a surprise, he had followed politics long enough to know that there was a possibility he would be elected.
On the 11th district Maria Deguara, wife of former minister Louis Deguara, was elected with 2,302 votes after the third count, beating second placed Alex Perici Calascione who collected 1,519 votes.
Most mayor Ivan Bartolo was elected on the 11th district with 2,317 votes to his name.
A total of five seats were up for grabs in four districts: the seat vacated by Beppe Fenech Adami on the seventh district, the seat vacated by Robert Arrigo on the 10th district, the two seats vacated by Simon Busuttil and David Agius on the 11th district, and the seat vacated by Marthese Portelli on the 13th district.
Read More: How are MPs elected in casual elections?
Earlier in the day a problem was encountered on the seventh district, where Beppe Fenech Adami's distributed votes did not add up to the number of votes won by Fenech Adami. The votes were later determined to have been mistakenly placed on newly-elected MP Jean Pierre Debono's pile of votes.
The votes which were missing were those transferred from Godfrey Farrugia to Beppe Fenech Adami when the former was eliminated.