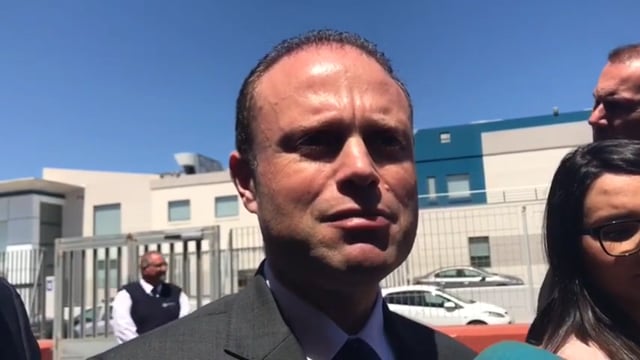 Muscat will go to PANA when inquiry concludes Egrant investigation
The coordinators of the European Parliament's committee of inquiry into money laundering, tax avoidance and tax evasion – set up in the wake of the Panama Papers – have invited Prime Minister Joseph Muscat to appear before the committee when he is Strasbourg in the European Parliament plenary week, between 15 to 18 May.
Muscat will address MEPs in Strasbourg right in the heart of an election campaign, after he called a snap election earlier this week, a year earlier than expected.
In a statement, Green MEP Sven Giegold said the Greens had supported the initiative of chairman Werner Langen, of the EPP, to invite the Prime Minister.
Muscat told the press later that he had no problem appearing before the MEPs. "I have no problem appearing before any committee or parliament… I understand that it was the PN's intervention that resulted in this invitation, because they could have spoken to me in Malta when they were here. So the intervention is related to the lies that have been said about me. I will appear before the committee when the magisterial inquiry is completed so that I can show them how Opposition leader Simon Busuttil lied about me."
MEP Sven Giegold, financial and economic policy spokesperson of the Greens/EFA group, said Muscat had to explain the latest developments into the allegations concerning the ownership of an offshore Panamanian company.
Muscat has requested a magisterial inquiry into allegations that his wife was the beneficial owner of Egrant Inc, a company set up by Mossack Fonseca by auditor Brian Tonna. The Prime Minister has denied the allegations.
"The credibility of the EU is at stake as Malta holds the Presidency of the EU and is currently negotiating on revising the anti-money laundering standards. It is highly unusual to call for elections during a Presidency. This election [cannot] delay the inquiry of the European Parliament," Giegold said.
Muscat's chief of staff, Keith Schembri, who also opened an offshore company in Panama after 2013, has declined to appear in the PANA committee.
The European Council's legal unit has itself questioned the legality of the PANA committee to summon government ministers, but former energy minister Konrad Mizzi, who also opened an offshore company, appeared before the committee during its Malta visit in February.
"We have already invited the Maltese Presidency twice and they didn't show up. Similarly, we requested to meet with Mr Schembri, chief of staff of the Prime Minister and he refused to see us in Malta or to come to Brussels. In addition, the Greens have insisted that [former minister] Ninu Zammit and Nexia BT will be re-invited to PANA in June."
Alternattiva Demokratika chairperson Arnold Cassola said he fully endorsed the request for the presence of Prime Minister Muscat in the PANA inquiry committee.