[WATCH] St Luke's Hospital workers thank Delia for Vitals-Steward court victory
PN leader Bernard Grech held a press conference outside St Luke's Hospital with Delia and PN MP Stephen Spiteri, after which they walked inside the hospital grounds to show journalists the lack of investment that was promised by Steward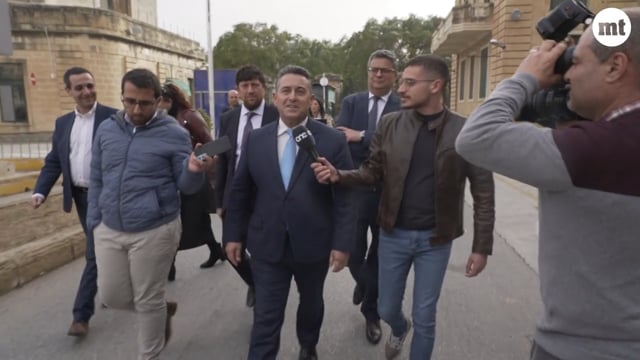 Workers at St Luke's Hospital took the time to thank Nationalist MP Adrian Delia for his court victory on the Vitals-Steward case after a PN press conference outside the hospital on Tuesday.
PN leader Bernard Grech held a press conference outside St Luke's Hospital with Delia and PN MP Stephen Spiteri, after which they walked inside the hospital grounds to show journalists the lack of investment that was promised by Steward.
"I salute you Dr Delia," one of the workers told the PN MP as he shook his hand.
St Luke's was one of three hospitals sold to foreign investors as part of a privatisation deal struck with Vitals Global Healthcare (VGH). As part of the deal, VGH had to fulfil several investment milestones, but no work had ever been completed.
Three years after VGH won the concession for the three hospitals, the company sold its ownership to Steward Healthcare after running into financial difficulty. Steward also failed to live up to its contractual obligation.
On Friday, a judge struck down the contract and ordered that all three hospitals be returned to the government. The court case was initiated by Delia in 2018.

"The Prime Minister is corrupt, as much as the VGH/Steward deal," said Bernard Grech when addressing journalists. He insisted that it is not enough for Robert Abela to simply say government learnt from its mistakes.
Instead, according to the PN, Abela together with his fellow MPs, serving together with him in Joseph Muscat's cabinet, show shoulder political responsibility and apologise. The government should also have Steward return the €300 million, "given to them budget after another by Abela's government."