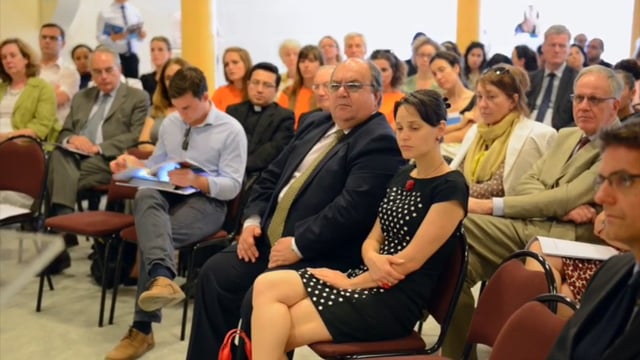 Refugees recount stories of survival • Video: Ray Attard
Civil Liberties Minister Helena Dalli urged society to listen to what refugees and asylum seekers had to say when discussing issues that directly affect them.
Speaking at a conference organised by the United Nations High Commissioner for Refugees (UNHCR) makring World Refugee Day, Dalli said listening to refugees was of "paramount importance".
"We have to listen more to what you have to say because it is through your narratives that antagonism, contempt and fear are defeated and respect, compassion and solidarity prevail," Dalli said.
"Malta has always been exposed to mixed migration movements but the last 10 years have brought a new reality. We have seen the plight of asylum seekers and those in search of a better future and their suffering is with us for the long run."
Praising the resilience of refugees, Dalli explained that as far back as 1971, Malta became a signatory to both the 1951 Convention relating to the Status of Refugees and the 1967 Protocol.
"Today, we enjoy an open dialogue with the United Nations High Commissioner for Refugees and Malta is moving forward in strengthening migrant's integration," she said.
The minister said that many a time refugees are forced out of their homes because the leaders of their country had failed them: "They come from war zones, conflict and poverty-stricken parts of the world, or are victims of ethnic strife or severe discrimination. They have no other option but to move out."
"Sometimes they go to other regions of their own country and this fails too. They seek neighbouring countries and end up lost at sea… This is what the refugees who end up in Malta tell us."
Dalli said that Europe had "a lot to do to make up for the damage it had caused to many of these countries". She said whilst Malta was never a colonial power, it now formed part of a Union with many countries that once were.
"This is not to excuse the leaders of these countries where corruption, selfishness, lack of respect toward human rights and dignity are the order of the day," she said. "Indeed, many of these countries are rich in natural resources, but there is evidently bad leadership and management."
The minister said that the international community had to do more and intervene in those countries where these atrocities take place.
"Refugees express a wish to return to their country of birth if they would be allowed to live in peace, work and lead a decent life with their families."
Taking the floor, refugee Mohamed Hussein Mohamed spoke on how the militant group al Shabaab in Somalia forced to abandon his work, flee his home and leave his family behind.. "I was a journalist with a local television station accused of working for the government by this group," he said. "The truth is that we were independent and our only loyalty was towards the people. But you cannot go against al Shabaab.
"They killed my two best friends, also colleagues, and attacked my home. I did not want to leave them behind but my family convinced me to leave for my own safety."
During the conference, a spokesperson for a consultancy firm that operates in more than 30 countries in Africa, the Middle East and Central Asia – Altai Consulting – explained how Libya was strategically placed as the crossroad point between Africa and Europe.
"Crossing the Sahara desert is by far the most dangerous route with many migrants suffering from starvation, exhaustion and dehydration," Arezo Malakooti said.
Malakooti said that Libya offered many migrants hope of better opportunities with better wages. The country's proximity to Europe was a big factor that pushed migrants towards travelling to the North African country.
"We hear of how smugglers add petrol to the refugees' water so that it would taste different and they'll take less of it in the hope they'll be weak. We hear of smugglers abandon refugees in the middle of the desert," Malakooti said.
UNHCR Libya was now in the process of setting up a 'Know before you go' campaign, targeting refugees in providing information on the risks and challenges of irregular migration.
Amy Buchanan, a UNHCR Libya protection officer, called for the regularisation and monitoring of medical assistance at detention centres in prime migrant landing points such as Libya.