[WATCH] 'EU will stand by Malta's side to tackle irregular migration' - EU Commissioner
EU Migration Commissioner admits to previous lack of migration support to Malta • Home Affairs Minister says Malta could 'seriously consider' proposal for North African asylum centres • PM says immigration problems linked to Libyan conflict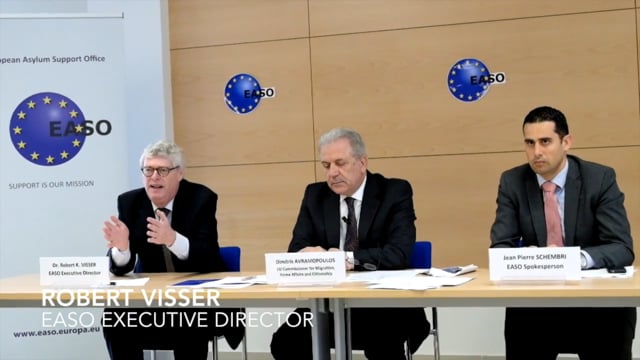 'Malta is not alone in tackling migration' - Migration Commissioner. Video: Chris Mangion
The European Union will "stand by Malta's side" to address the worsening problem of irregular migration, European Migration Commissioner Dimitris Avramopoulos said.
"The EU hasn't supported Malta as much as it should have done," Avramopoulos admitted, during a visit to the European Asylum Support Office in Valletta.
"However, we have now realized that we must show more solidarity with Malta on this issue. Malta is located in a very sensitive and unstable zone, and EU solidarity must no longer be used as a slogan but become concrete action."
He pointed out that EU states received 620,000 asylum applications in 2014, what he called a "striking" 44% increase over the previous year.
Avramopolous visited Malta to discuss two EASO pilot projects: one on the routes taken and conditions faced by asylum seekers en route to Europe, and another on joint asylum processing among EU member states.
The study's findings are not yet available, but EASO executive director Robert Visser said that they revealed a vast "industry" of human trafficking reaching as far as Bangladesh and South Africa. He said that smugglers charge migrants as much as €1,500 for short trips and up to €6,000 for long trips.
"It's a humanitarian crisis, but we cannot deny that criminals are behind it," Visser said.
Avramopolous called for enhanced cooperation between the EU and third countries.
"The criminals are based in third countries, so such cooperation is crucial," Avramopolous said. "Some smugglers are more well-equipped than some third-country states. It is a very ugly problem, but the EU has the will and the institutions to counter it."
'Malta will seriously consider proposal for North African asylum centres' - Home Affairs Minister
Home Affairs Minister Carmelo Abela said that Malta would "seriously consider" an Italian non-paper to set up asylum processing centres in North Africa if it were to make its way to the European Commission's agenda.
The proposal suggests the setting up of reception centres across North Africa to vet asylum seekers en route to Europe. Those judged to be legitimate asylum seekers would be allowed to undergo the asylum process with the European country they wished to reside in, while those deemed otherwise would be returned to their countries of origin.
"A lot of rumours have been spreading," Avramopolous said of the non-paper. "However, no formal proposals have been submitted to the Commission and I cannot speak of something that is still unofficial."
He added that the European Commission's narrative on migration solutions has shifted from one focused on "burden sharing" to one focused on "shared responsibility".
"Migration has become a pan-European issue and I'm very optimistic at how the EU attitude towards it has changed," Avramopolous said. "I am confident that Malta will feel the difference."
'Migration must be seen in Libyan context' – PM
In a meeting with the Commissioner, Prime Minister Joseph Muscat warned that migration issues must be seen in the context of the ongoing Libyan crisis.
"We are pleased that the EU council has taken a strong stance in attempting to find a solution for the Libyan crisis," Muscat said. "However, too many cooks spoil the broth and the EU should stand behind the UN's attempts at brokering a political deal to the conflict, while being ready to employ all its instruments, including its common foreign security policy."
Avramopoulos reiterated his description of Malta as being in a "zone of instability stretching from Tunisia to Ukraine".
"Greece shares the same migration symptoms as Malta, and my on-the-ground experience will play an important role in my tenure as European Commissioner," he said.