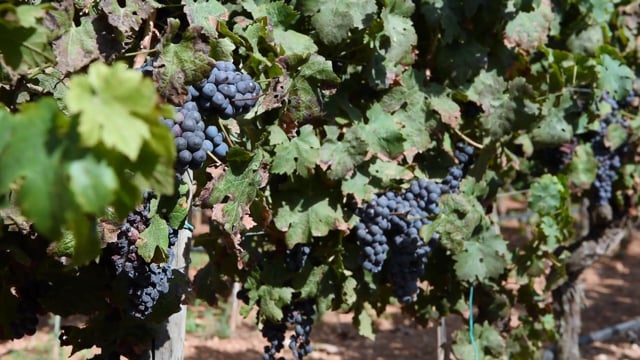 Drought sees 35% of indigenous vines dry out • Video by Chris Mangion
This year's drought has resulted in some 35% of vines indigenous to the Maltese islands, drying out, Marsovin CEO Jeremy Cassar revealed.
Cassar, who was addressing a press conference at the company's Marnisi estate on Wednesday, said that rainfall this year amounted to half that registered last year.
"Rainfall by September 2015 reached 530 ml, but this tear the amount is at an appaling 265ml," Cassar said.
"This resulted in a 20% to 25% reduction this year in the volume of wine produced across the company," he said, adding that the company didn't import any grapes from abroad.
Cassar said that Marsovin produces around 60% of the country's wine and that a majority of the wine produced was derived from indigenous grape varieties, such as Girgentina and Gellewza, which had been particularly hard hit by the dry months.
To this end, Cassar stressed that more needed to be done to safeguard the local grape varieties and noted that better access to irrigation would be of great help in addressing this issue.
"Abroad, Sicilian wines like the Nero d'Avola, are well safeguarded, with special concessions given to farmers growing the grapes in question, and efforts aimed at highlighting the product as different from others," he said, adding that the same ought to be done locally.
Cassar added that although campaigns to promote local wines were very important, more needed to be done by way of encouraging the production of the raw materials necessary.
"The company is also encouraging replantation of the grapes that have dried out this year," he said.
"We look forward to further investment in this sector from all parties involved and are definitely hoping for fast access to EU funds," he said, adding that funds were necessary sooner rather than later to ensure that farmers do not miss the narrow window where they can plant their vines and secure production for the following year.
Cassar went on to explain that although all varieties of wine had suffered due to the drought, the indigenous grapes, grown in Mgarr, Siggiewi and Burmarrad had suffered the most because the farmers in question did not have access to drip irrigation systems.
"The possibility of another year like the past one could spell the end for these grapes and vines unless new seeds are planted," he said.
Earlier this year the government gave some 5,000 farmers €900,000 compensation for the losses sutained due to the drought. Cassar told the newsroom that although the funds were helpful, they had not been enough to make up for the losses incurred by the absence of rainfall.
"Although vines are not among the crops that require the most water to grow, vine farmers are a very important part of sustaining the agricultural sector, particularly due to the economically important products that they can lead to," he added, stressing the need for further assistance in the sector.