[WATCH] Abortion surveys do not reflect reality, womens' rights group claims
Women's Rights Foundation says surveys highlighting the unpopularity of abortion in Malta reflect respondents' reluctance to speak the truth about a taboo subject • Calls for decriminalisation of abortion and for access to legal abortion in Malta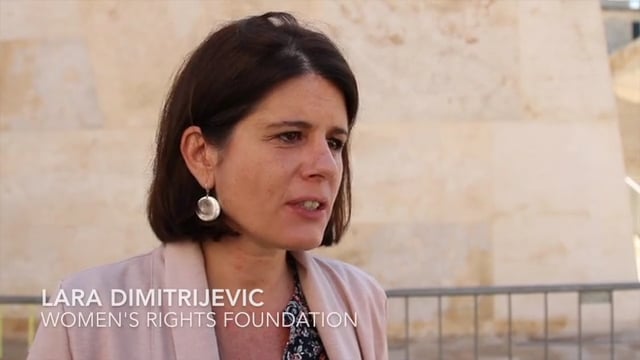 Lara Dimitrijevic on veracity of abortion survey
The unpopularity of abortion is due to people's reluctance to speak honestly about such a taboo subject, womens' rights activists claimed this morning.
"We all know abortion is a taboo subject. Nobody discusses it and people are afraid," academic and activist Andrea Dibben told the press. "We are sure many people would be reluctant to voice their true opinion even if it is an honest survey, and we are not sure it reflects reality."
Dibben stressed that human rights issues should never be decided by the majority, as any kind of reform would not have happen if it were tackled through a "majority approach."
Lawyer and activist Lara Dimitrijevic said that people would often be afraid of sharing their true opinions on abortion through telephone surveys out of fear of being identified. "Since the person is being contacted through their number, it means that their identity is known."
READ ALSO : MaltaToday Survey: Abortion remains a no-go area for Maltese
The activists from the Women's Rights Foundation were speaking during the launch of a position paper on sexual and reproductive rights.
The paper put forth a number of recommendations for reform related to a national action plan for sexual and reproductive health, a comprehensive sexuality education, and contraception and family planning. The group also recommended the decriminalisation of abortion and is "safe and legal access" to abortion for women through the Maltese public health system in at least four cases, including cases of rape and cases of fatal foetus impairment.
Amongst other things, the paper recommends a revision of the National Sexual Health Strategy to reflect legal and societal changes occurring since 2011, with clear responsibilities, timelines and measures of monitoring and evaluation to ensure accountability and quality standards in services and the development of better sexuality education programmes which "place gender equality and human rights at the centre and use methods that foster participation and critical thinking."
Wider and unrestricted access to sexual and reproductive health services through community-based clinics are another recommendation, as is the subsidisation of contraception as a public health investment.
The paper also controversially recommends that abortion be decriminalised "so that Maltese women who access abortion in other countries or through telemedicine do not face criminal proceedings and risk three years imprisonment, especially when accessing local health services for possible post-abortion complications."
It suggests that all women in Malta be provided with access to safe and legal abortion to through the public health system and licenced private providers at least in the following circumstances: when it is necessary to save a woman's life or to preserve a woman's physical and mental health, in cases of rape or incest and in cases of fatal foetus impairment.