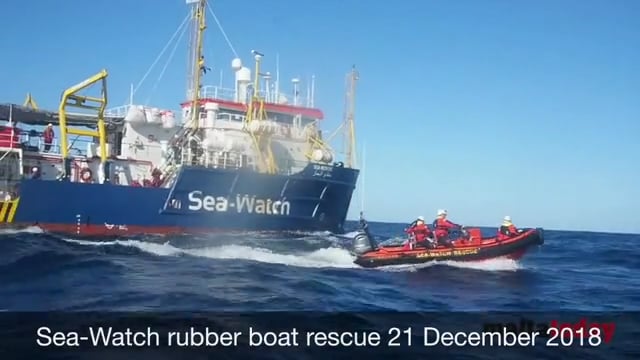 Christmas at sea: safe port denied to 344 people rescued by Sea-Watch
344 people were rescued within the space of 24 hours by the fleet of the #United4med Alliance, which also includes humanitarian NGO Sea-Watch amongst others, since Friday 21 December.
While the Open Arms vessel with 311 people on board is on her way to Spain, the Sea-Watch 3 is still denied a safe port.
"A simple solution is possible, as more than 30 cities and several federal states in Germany alone have agreed to accept people rescued from distress at sea. Sea-Watch calls on the federal government to find a solution before Christmas. Those who invoke Christian values are now obliged to act," Sea-Watch said in a statement.
On Saturday 22 December, Sea-Watch 3 saved 33 people from drowning, including several children. They are now safely on board the Sea-Watch 3, where they receive medical care. Less than 24 hours earlier, the Open Arms had already taken in over 300 rescued people.
Philipp Hahn, Head of Operations of Sea-Watch 3 said: "To escape torture, slavery and death in Libya, these people have no choice but to take on the dangerous route across the central Mediterranean Sea at Christmas. At these temperatures, the chance of survival in the event of a shipwreck is well under 24 hours, we are incredibly glad that we found them in time."
Along with the Moonbird and Colibri search aircrafts, the Spanish Open Arms and the German Sea-Eye 2, the Sea-Watch 3 is currently one of the only civil rescue ships on the Mediterranean.
"At the moment, the situation on board is stable, some of the rescued people help us to keep an eye out in case more people are in distress at sea," Hahn said. But on Tuesday, at the latest, a weather deterioration is to be expected.
"To avoid risks for the rescued, we call on the German government to find a solution before Christmas. If Seehofer wants to defend Christian values, he now has the opportunity to do so."
More than 30 cities and several federal states have declared themselves to be safe havens in Germany.
"The Federal Government must now live up to its European responsibilities. A solution would be possible if Federal Minister of the Interior Seehofer agreed to a quota according to Article 23 of the Residence Act," Hahn said. "We expect Christmas Europe and especially the Christian parties to reflect on their values of charity and to allocate a safe haven to the rescued people as quickly as possible so that the shipwrecked on the wintry Mediterranean no longer have to be exposed to wind and weather."