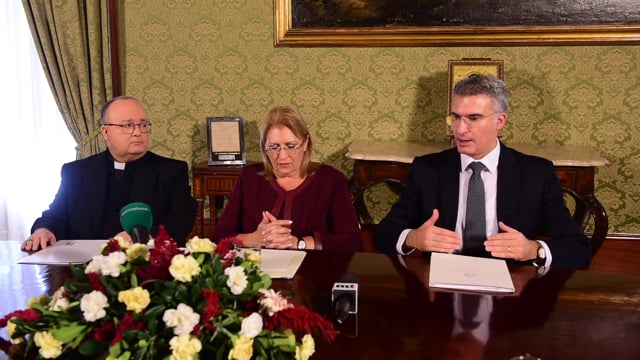 Government has no intention to grant long-term migrants Maltese citizenship (Video by James Bianchi)
Home affairs minister Carmelo Abela said that government has no intention to grant long-term migrants Maltese citizenship and did not commit himself on whether government has a policy to deport familes, instead limiting his comments to the deportation of 28 Malians who are currently under arrest in Safi.
On Sunday, MaltaToday reported that a married couple and their two Malta-born children are to be deported to Eritrea once their Temporary Humanitarian Protection – N(ew) [THP-n] will expire in August 2017.
The couple who wanted to remain anonymous, fearing further repercussions, told MaltaToday that they were told by the authorities that once their THP-n will expire they will be deported despite having been in the country for more than 11 years and their children were born in Malta.
Speaking at a press conference in which it was announced that prisoners will be granted an amnesty to mark the Catholic Church's Jubilee of Mercy, Abela pointed out that "each case should be examined individually, especially those involving children."
When answering a point blank question over the deportation of families whose temporary protection has been withdrawn, Abela said "all I can say is that I'm waiting for the completion of the identification mission" of the 28 Malians.
He also pointed out that the Malians – some of which have been in Malta since 2007 - awaiting deportation are all male and have no families in Malta.
Today, the Democratic Party proposed that children born in Malta should be automatically granted Maltese citizenship.
Following government's decision to stop issuing THP-n, human rights NGOs warned this will render hundreds of men, women and children destitute and this constitutes a regression of fundamental human rights. Last year, nearly 1,000 people were granted THP-n status.
Abela said that the length of failed asylum seekers' stay in Malta "does not make their entry into the country regular" adding that the decision to repatriate failed asylum seekers "has no expiry date."
Insisting that the country cannot host everybody, Abela – who previously oversaw the cash-for-citizenship scheme which sells Maltese passports to the global rich for €650,000 - underlined the distinction between refugees and economic migrants.
In reply to whether people born in Malta should automatically be given Maltese citizenship, Abela said government was not looking into or considering granting citizenship to long-term immigrants, adding that "people who entered the country irregularly, will remain irregular and although we have to look at individual circumstances this does not mean that we have to give them citizenship, unless the law changes."