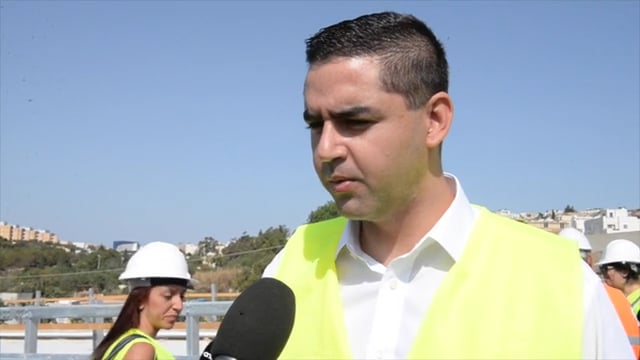 Kappara flyover will open to traffic tonight
Half of the flyover of the Kappara Junction project will open to traffic from 9pm tonight.
Two lanes will open for traffic passing from Regional Road to St Julian's, a popular route that is currently congested into a single lane.
At the same time, access from Regional Road to San Gwann will be temporarily blocked off as works proceed onto that part of the junction.
The lanes will eventually be used by traffic passing in the other direction, with two other lanes opening up for the Msida-St Julian's route.
However, transport minister Ian Borg told a press conference that a decision was taken to open it up temporarily to traffic passing to St Julian's so as to ease the heavy traffic on Regional Road immediately.
He noted that the flyover will open several weeks ahead of schedule and that Transport Malta also plans to beat the original end-of-year deadline for the completion of the project.
With around 90,000 vehicles passing through it everyday, the Kappara Junction is one of the busiest roads on the island – connecting St Julian's, Sliema, Gzira and Pembroke with San Gwann and Msida, as well as the Regional Road.

Before works started in April 2016, it was also one of the most notorious traffic nodes, with traffic jams from St Julian's to the former roundabout sometimes even stretching as far back as the tunnels above Birkirkara Road.

Once the project is completed, traffic from St Julian's to Msida and the Regional Road and vice versa will start passing over the flyover. All other traffic will continue passing through a roundabout that will be re-built under the flyover.
At the press conference, Borg said that Transport Malta is maximising the summer months, when traffic is calmer due to school holidays, so as to carry out crucial road works.
Apart from the Kappara Junction, these include the creation of a new lane in Lija heading down to the roundabout between the cemetery and the Birkirkara bypass and the widening of a road in Kirkop for traffic heading down to the airport.