BMX enthusiasts thrilled by indoor skate park
Prime Minister Joseph Muscat inaugurates first phase of indoor skate park in Pembroke which will be one of the largest in Europe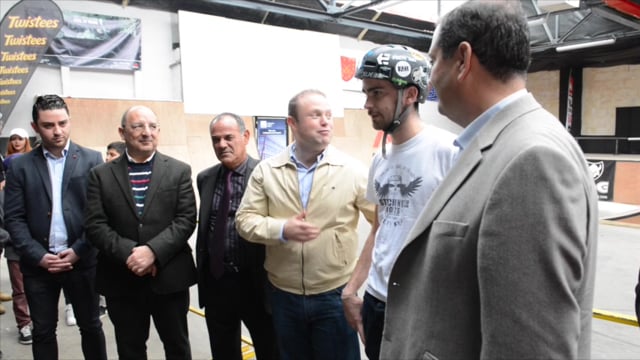 The dream of a 24-year-old biker Karl Naja to have an indoor skate park in Malta today was finally realised as Prime Minister Joseph Muscat inaugurated the first phase of the park in Pembroke.
Last year, before the March general election the BMX enthusiast had emailed his idea of turning an abandoned building in Pembroke into a skate park to then opposition leader Joseph Muscat.
12 months later Naja could show off his skills together with his fellow BMX enthusiasts to Muscat who praised the young biker and the Malta BMX Association for their initiative and passion for the sport.

Speaking to MaltaToday, an elated Naja said that before the election he had emailed the proposal to Muscat who had immediately sent back a "commitment letter" saying that if elected the new government would assist the association in its attempts to take over the abandoned hanger in Pembroke.

The association's president John Zammit thanked Muscat and parliamentary secretaries Stefan Buontempo and Michael Farrugia for taking interest in their project and making it possible.
A visibly emotional Zammit added that "thousands of young persons, Maltese and foreigners will enjoy the facilities" which he described as one of the largest in Europe.
The Malta Tourism Authority will also promote the facilities, which will include a nursery for beginners and children interested in taking up the sport.
In a brief speech, Muscat said that 12 months ago the site was in a state of abandon and full of idle and scrapped vehicles and machinery, however thanks to the swift intervention of the lands department under Farrugia's guidance and Buontempo's support the project was made possible.
Naja and other bikers then showed off their skills under the watchful eye of Muscat and his two daughters who were clearly thrilled by the bikers' daring stunts and moves.