[WATCH] Country's leaders cast their votes
President of the Republic Marie-Louise Coleiro Preca, Prime Minister Joseph Muscat and Opposition leader Simon Busuttil have voted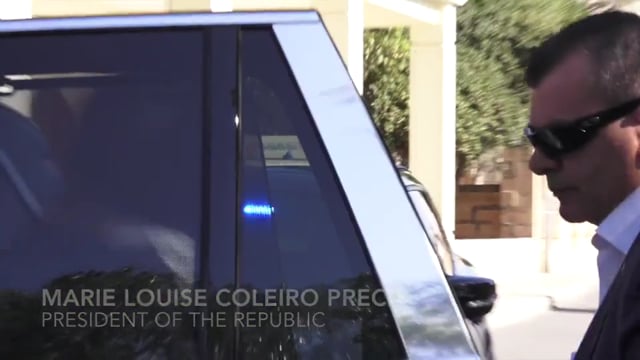 By midday, the country's leaders had already cast their vote on Election Day.
President Marie-Louise Coleiro Preca and her husband Edgar voted in Lija, Prime Minister Joseph Muscat and his wife Michelle voted in Burmarrad whilst Opposition leader Simon Busuttil and his son Gregory voted in their hometown of Lija. Busuttil's partner, Kristina, voted in Lija for the first time.
In Burmarrad, a bevy of reporters, cameramen and photographers accompanied Muscat and his wife Michelle into the polling station at around 10.20am where the two posed for photos with the ballot sheet in their hands.
As he and his wife stepped out of the polling station, Musat stopped to say a brief word to the media.
"Michelle and I have done our duty and voted. We urge everyone to do the same," he said.
As they left to walk back to their home, Muscat and his wife were warmly greeted by a number of neighbours and well-wishers.
In Lija, Busuttil was greeted by scores of eager supporters. In comments to the press after casting his vote, Busuttil thanked journalists for their working over the past weeks.
"I came here to do my duty as a citizen of this country," he said.
"Today is the nation's day, the day when the nation is sovereign and nobody other the nation can decide. The only appeal I can make is for everyone to do their duty as citizens of this country. The key to the country is in the people's hands and its decision will be the last word, that is respected by everybody."
Other leaders have also voted, including Archbishop Charles Scicluna, Alternattiva Demokratika chairperson Arnold Cassola who voted in Pembroke whilst PD leader Marlene Farrugia, running on the PN ticket, was the first to cast her vote at 8am in Qrendi. She was accompanied by her partner and PD candidate, Godfrey Farrugia, who waited outside the polling station.
Cassola chatted briefly outside the polling station with fellow AD candidates Ralph Cassar and Carmel Cacopardo before queuing with the rest of the public at Pembroke primary school.
Several polling stations have reported a steady flow of voters as soon as the polling stations opened at 7am.
Both parties have been urging the electorate to go out early.
The first voter turnout is expected to be issued by the Electoral Commission at around 2pm.