[WATCH] Caruana Galizia assassination: Ten arrested, Malta prime minister holds press conference
Prime Minister Joseph Muscat announces the arrest of eight Maltese individuals in conjunction with the murder of Daphne Caruana Galizia • Police searches underway in Marsa, Bugibba and other localities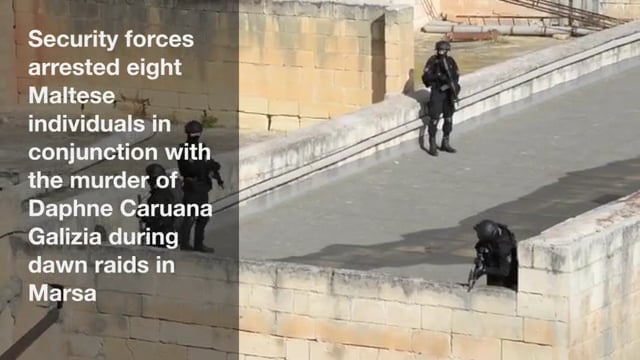 Eight Maltese people have been arrested this morning in conjunction with the murder of Daphne Caruana Galizia, Prime Minister Joseph Muscat announced this morning.
In a press briefing at Castille, Muscat said that the eight had been arrested in a joint operation in Marsa between the police, the security services and the Armed Forces of Malta. The police have 48 hours to interrogate them before deciding whether to arraign them or free them, he said.
At 11am the Government took to twitter to announce the arrest of an additional two individuals, bringing the total to 10 people arrested.
'An additional 2 persons have been apprehended in #DaphneCaruanaGalizia murder probe, bringing total to 10 arrests. Authorities have all areas of interest under control since early this morning and searches are underway.' - #Malta PM @JosephMuscat_JM

— Government of Malta (@MaltaGov) December 4, 2017
Caruana Galizia was killed on Monday, 16 October, when her car blew up in Bidnija at around 3pm. Police investigators brought in forensic teams from the FBI and their Dutch counterparts to assist in scene-of-crime analysis.
The Marsa Menqa area had been sealed off in the early hours of Monday, with AFM maritime squadron and aerial units providing support on site.
Muscat said that some of the eight were already known to the police, while the rest had prior criminal records. When asked if the eight arrested had participated in the murder, or if they also included the mastermind, Muscat would not comment. Maltatoday is informed that those known to the police were prominent figures in the local crime scene.
"I have a clear idea of what they did and who they are, but I cannot give out more details at this time," he said. "Let us not forget that, in the past, such statements by a prime minister had been used in the accused's defence."
Police searches were currently underway in other localities, including Bugibba and Zebbug.
Muscat said investigations were still ongoing and reiterated the government's commitment to ensure no stone remained unturned in an effort to bring to justice all those responsible for Caruana Galizia's murder.
He thanked all Maltese forces involved in the investigation and the arrests, as well as the US FBI, Interpol and FInland's National Bureau of Investigation.
Magistrate Anthony Vella is leading the inquiry into the murder.
Eight arrested over murder of Maltese journalist Daphne Caruana Galizia https://t.co/UkmGepuGa8

— The Guardian (@guardian) December 4, 2017
Impeccable work by the Malta Police, security services who were assisted by foreign experts.
So far 8 persons arrested and being investigated re barbaric of DCG. Thanks to all the security forces

— Michael Farrugia (@dr_micfarr) December 4, 2017
Malta arrests eight over blogger murder https://t.co/IdbjqluAXN

— BBC News (World) (@BBCWorld) December 4, 2017
Eight people arrested in connection with the murder of #DaphneCaruanaGalizia in Malta. Hopefully this is a crucial step toward truth and justice - @giannipittella pic.twitter.com/27p8QBbnsH

— S&D Group (@TheProgressives) December 4, 2017
In a statement, the Nationalist Party said it was following closely the news of the arrests and praised the efforts of the police, security services, AFM and foreign counterparts who assisted in the investigation. It said it felt it was in the best national interest that it not comment further these 48 hours, which could be crucial in the investigation.
More details soon