[WATCH] Journalist Daphne Caruana Galizia murdered in Bidnija car bomb
Journalist Daphne Caruana Galizia has been killed in a powerful car bomb in Bidnija near her family home * PM Joseph Muscat describes it as a 'black day for freedom of expression' • Police say Mosta police station did not receive reports of death threats by victim or her family in the past two weeks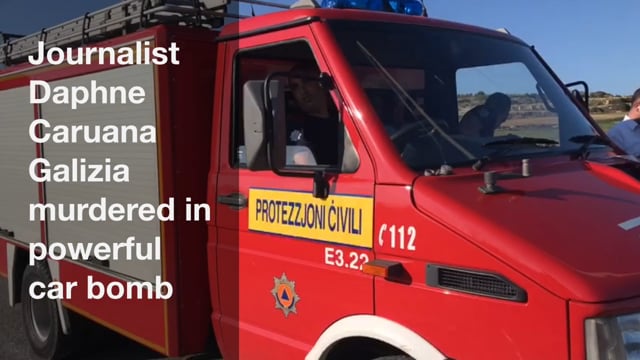 Daphne Caruana Galizia murdered in car bomb
The Maltese journalist Daphne Caruana Galizia was killed in Bidnija on Monday afternoon in a powerful car bomb. She was 53.
The incident happened just after 3pm on Triq il-Bidnija when firefighters and the police were called in to put out the flames of the explosion.
The rental car, a white Peugeot 108, exploded on the road outside the Caruana Galizia family home where the journalist lived with her husband Peter, a lawyer. Police sources told MaltaToday that her body was unrecognisable and badly burnt.
READ MORE: Who was Daphne Caruana Galizia?
A dark day for democracy: shocked reactions at the murder of Daphne Caruana Galizia​
Her son Matthew Caruana Galizia was at home at the time of the incident and was the first on the scene of the crime. Caruana Galizia's husband, Peter, was seen talking to the police on site.
The car Caruana Galizia was driving was thrown tens of metres away into the surrounding fields, in what sources described as a very powerful explosion.
Caruana Galizia was a vocal critic of the Labour government, having broken the Panama Papers in Malta in 2016. Her son Matthew at the time was a journalist with the Pulitzer-winning International Consortium of Investigative Journalists. She was a columnist for the Malta Independent, a blogger in her own right, and before that, a columnist for The Times.
This is a spiteful attack on a citizen and freedom of expression. I will not rest until justice is done. The country deserves justice -JM

— Joseph Muscat (@JosephMuscat_JM) October 16, 2017
This is the collapse of democracy and freedom of expression. We shall not be silenced.

— Adrian Delia (@adriandeliapn) October 16, 2017
The Malta Independent said the murder was a threat to journalism, democracy and freedom of expression. "We hope justice will prevail and the perpetrators are brought to justice for this murder."
Caruana Galizia's last blog was posted at 2:35pm yesterday, minutes before she left the house.
Prime Minister Joseph Muscat annouced in the House of Representatives that FBI officers were on their way to Malta to assist in the investigation, after a request was made to the US government.
In Parliament, an expected Budget speech by Muscat was postponed for both sides of the House to deliver statements on the murder of Caruana Galizia. Opposition leader Adrian Delia held a press conference at 5:30pm claiming the murder was politically-motivated, earning a rebuke from Muscat in his intervention in the House.
Duty Magistrate Consuelo Scerri Herrera was on site to conduct the inquiry. But the Caruana Galizia family has requested that the Chief Justice replace the inquirying magistrate, saying they had no trust in the Scerri Herrera. The magistrate was one of the first targets of criticism by Caruana Galizia when she launched her blog.
The police blocked off the road and Armed Forces of Malta Brigadier Jeffrey Curmi was also on site with senior police officers.
In a short statement Prime Minister Joseph Muscat said he was shocked by the incident and described it a "black day for freedom of expression". He called for national unity and insisted he would strive to ensure justice was done.
In a statement on Tuesday, the police said that no report of threats to her safety had been filed by the victim or her family at the Mosta police station in the past two weeks, contrary to what was reported in some sections of the media.
Reactions are those of sorrow and shock:
Horrific. I worked with her once upon a time, I cannot believe this has happened in a supposedly civilised EU country! #Malta

— Jennifer Baker (@BrusselsGeek) October 16, 2017
Political murder in #Malta of prominent journalist Daphne Caruana Galizia by the powers-that-be. @ICIJorg @HarryCooper_UK

— Jason Azzopardi (@AzzopardiJason) October 16, 2017
Daphne

Killed in car bomb??
Unbelievable.
Is it possible my country has got to this?

— Arnold Cassola (@ArnoldCassola) October 16, 2017
#Malta cannot tolerate this carbomb murder. Rest in peace #DaphneCaruanaGalizia

— Michael Briguglio (@BriguglioMike) October 16, 2017
crooks who run #Malta have their way again: IED car bombing kills investigative journalist @dcgblog this afternoon. 4th car bomb in 2017

— Ann Marlowe (@annmarlowe) October 16, 2017
Great shock and sadness at the brutal murder of Daphne Caruana Galizia. An appeal for a unified resolve to promote true democracy. RIP.

— Bishop CJ Scicluna (@BishopScicluna) October 16, 2017
There is a very sad day for freedom of speech and journalism. This is a reprehensible and unforgivable terrorist act.

— Saviour Balzan (@saviourbalzan) October 16, 2017
More information to follow.