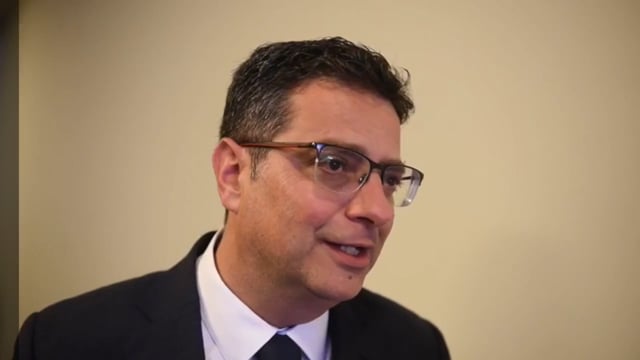 Adrian Delia is asked about the rebellion in his parliamentary group
Rebel Nationalist Party MPs may call for a no confidence vote in their leader within the parliamentary group, a move that could trigger a change in Opposition leadership.
MaltaToday knows of 11 MPs who would back such a motion while another four are still undecided.
The rebels need 15 votes within the parliamentary group to carry the motion that would effectively rob Adrian Delia of the support he needs to be Opposition leader.
If Delia loses the support of a majority of MPs on his side of the fence, the President would be expected to appoint someone else who enjoys the backing of a majority of Opposition MPs.
If this happens, Delia will remain PN leader but lose his constitutional role as Opposition leader.
However, Delia was dismissive of the rebellion (see video) in his parliamentary group when asked by MaltaToday this morning. "There is no issue... I have full faith the parliamentary group is behind me," he said, adding he was not worried at all.
The Opposition has 30 parliamentary seats, two of which belong to Marlene Farrugia and Godfrey Farrugia of the Partit Demokratiku, and who would very probably align themselves to the new grouping.
READ ALSO: Adrian Delia must call a vote of confidence in his leadership - Marlene Farrugia
The prospect of a no confidence vote being raised within the PN parliamentary group gained traction after Monday's meeting of MPs at PN headquarters.
MaltaToday is informed that the meeting started off with harsh criticism from PN deputy leader Beppe Fenech Adami.
He expressed strong views on what he described as the party's paralysis in the wake of the Daphne Caruana Galizia murder. Fenech Adami lamented the PN's inability to speak up.
Fenech Adami addressed Delia and said his absence from the Sunday protest demanding justice for Caruana Galizia was a reflection of the state the party was in.
PN administrative president and MP Karol Aquilina backed Fenech Adami's observation.
Claudio Grech and Marthese Portelli also spoke at the meeting calling for the party to realise what was at stake in this tragic moment.
The only MP who stood up to openly defend Delia was Kristy Debono, who made a distraught appeal for colleagues to stop attacking the leader.
Clyde Puli, another Delia supporter, appealed for unity.
Failed leadership contender Chris Said and Jason Azzopardi were not present for the meeting.
On his way in to the meeting, Delia told MaltaToday that he had the full backing of all MPs and shunned a suggestion that he faced a rebellion.
During the meeting, the PN leader was accompanied by Pierre Portelli, the former content editor at The Malta Independent. Portelli did not comment.